Today I spent the day in Kawagoe city, Saitama prefecture, at Aiai, a special art school where a wonderful woman, Chieko Awata sensei teaches young adults with autism and other challenges how to paint. Their artwork is amazing! This is the lovely Awata sensei standing by a rack full of postcards made from Aiai's young artists.
Aiai website
My interview with Awata sensei--her Words to Live by
Awata sensei has been teaching challenged people for over 40 years and she is running Aiai as an NPO ( not for profit) and she clearly could use some serious help! She is working 24/7 to make sure autistic young people have something nice to do, to create art and to have an income which comes from sales of their artwork. Please support Aiai! Come this coming Sunday to buy some great art for yourself and your loved ones while supporting Aiai and its truly talented artists!
Mark your #Tokyo calendar & bring your #XMAS money: this Sunday, 10/31st these talented artists will paint live at a Bunkyo-ku event. See their fantastic art, watch them create and bid for the paintings at an auction held there and then. You can also buy their small paintings for 1200 yen, large ones for 18500 yen! Look at all these great postcards! Each is printed from an original painting by one of the Aiai artists.
How about buying a bunch and use them as thank-you cards, birthday greetings ? Each one is 150 yen
More great cards, some are Kawagoe city's landmarks: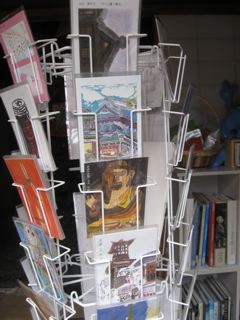 and some with amazingly colorful fish: how supercool!
And some more with parsimmons and other delicacies:
Three of these tall, dried lotus flowers filled with tiny bits of silk from kimonos are just 1200 yen! They make a fantastic room decoration and are perfect gifts, too!
Their great paintings can be also ordered on custom T-shirts. You choose the painting, the color of the T-shirt and for just 3000 yen, it is yours in a few weeks!
Here's a wonderful way to make your home and/or your office beautiful while supporting autistic artists: for just 36,000 yen a year, you can rent 6 original paintings with four changes a year so you get 24 beautiful original artworks for just 36,000 yen a year. You don't buy, only lease them. Cheap & fun! How about giving this wonderful gift to yourself and to your loved ones? Xmas is just around the corner!
Aawata sensei with her talented artists inside Paub Aaron in Urawa city, where the owner kindly supports Aiai and autistic artists by displaying and selling their art in his British pub. Go get a beer, a snack and see the art!
Pub Aaron is just a few blocks from Urawa station, tel number is 048-832-5388
Pub Aaron in Urawa city
Sunday Party and Auction for Aiai and their great artists! Come to spread love, to support art and autism and to do all your holiday shopping! Cu all there! Thanks a lot!
Time: 10/31 from 11 am till 13:30 PM
Place: Tokyo, Bunkyo-ku, 文化シャッタBXホル (Bunka Shutter BX Hall)
文化シャッターBXホール ご案内 Map in Japanese to Bunka Shutter BX Hall
Nishikata 1-17-3 telnumber: 03-5844-7700
How to get there: Mita and Oedo lines Kasuga station, A5 and A6 --about 3 minute walk
Namboku line Korakuen station, exit 8
Marunouchi line, Korakuen 4B exit
JR Sobu line Suidobashi, exit towards Ochanomizu
Hope to see you all there! Love Judit