August 15th, at Tokyo's Yasukuni Shrine:
Yes, that's me today, on August 15th, 2008, standing in front of the Third Shrine Gate with the Haiden or Main Hall just behind me. I hope you can get a feel for how beautiful this shrine really is, even with me blocking the view. I love going to Yasukuni Shrine and visit it often all year round. If you have never been there, you're missing a treat. You will love it! The walk from Kudanshita station is breathtaking: Japan's largest Shinto torii gate, perched on top of a small hill welcomes us. No matter how tired or busy I am going there, I always feel a sudden burst of energy when I see this first gate: I know that I am entering a peaceful, beautiful garden where every step takes me deeper into the heart of Japan. An avenue with large gingko trees leads to the statue of Omura Masujiro and to the second gate which is the biggest bronze torii in Japan. Please check the Yasukuni Shrine website for more detailed information, including a great map with photos:
Yasukuni Shrine
Yasukuni Shrine is a very special place where the spirits of those who sacrificed their lives during wars, all the way from 1853 till the end of the Greater East Asian War( WWII), are enshrined: a total of 2,466,000 of them! Of course, most of them were young men who wanted to protect their families and country. I heard a lot about them from former soldiers who survived and are in their late seventies, or eighties and some are even in their nineties. These survivors keep coming to Yasukuni Shrine from all over Japan to say hi to their friends enshrined here and to thank them for their sacrifice.
August 15th marks the end of the Greater East Asian War ( WWII) in 1945 in Japan. Yasukuni Shrine is especially crowded that day, full of those who want to show their appreciation for those who gave their lives for Japan. I'm married to a Japanese and live in this fantastic country so naturally I go, too! I pray at the altar for those 2,466,000 men and the many more who also died during those wars.  I also thank the survivors, who worked so tirelessly to build up Japan from the ruins. Today Japan is a wonderful place to live and all of this prosperity is based on their sacrifice and hard work. I want to keep remembering those who didn't have such an easy life as me and to always feel humble and thankful for what I have. By going to Yasukuni Shrine I show my appreciation for all Japanese people, whether they are alive or not. Arigatou gozaimasu!
Today I went earlier than usual because I had a date with Hiroo Onoda san and his lovely wife, Machie san.
my article on Hiroo Onoda san
Yes, that's Onoda san who at 86 is still looking great, thanks to his amazing DNA and because of the love and care of his wife, Machie san who always accompanies him everywhere. They make a great couple and are very active!
Onoda san's book, No Surrender: My Thirty-year War is so exciting and incredible that I read it in one sitting and immediately read some of it again. Highly recommended!
Hiroo Onoda san's book on Amazon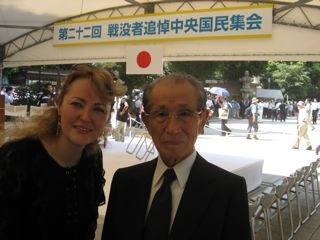 Onoda san is living history and a pleasure to know. I hope he lives longggggggggggg!Machie san is a lot younger and she is also full of energy so the two are always busy with many projects, such as their Shizen Jyuku, a nature camp for kids:
Onoda Shizen Jyuku
To learn about Japanese history, the best place is the beautiful Yushukan Museum, right next to Yasukuni Shrine.
Yushukan Museum
You can easily spend a couple of hours there because the exhibition halls include films, anime and documentaries, too. It's my great honor that the TV program I made about Hideo Suzuki san, who trained as an ohka pilot, is also displayed here at Yushukan Museum, in the ohka room:
Ohka in Wikipedia:
and
my article on Hideo Suzuki san
Hideo Suzuki san was a member of the Jinrai Butai Ohka, a special unit within the Japanese Navy during the Greater East Asian War ( WWII) whose members were training to fly on deadly one-way missions in an ohka. This is Hideo Suzuki san back then:
He was so young, so handsome and full of courage. Although 63 years passed by, he's still handsome and brave, just like before! Here he is on the left with two of his fellow ohka pilots, Naito san and Shinjo san. Looking great!
Please watch this program about Suzuki san with either Japanese or English subtitles on my website:
tokkotai.jp
to find out why Suzuki san and other young men like him, who were well aware that Japan was losing the war, volunteered to be ohka pilots. You will also learn why Japan developed such kamikaze-type corps and why did these brave young men decide to join such a unit.
The Yushukan Museum has a lot of information on the background of the war so I recommend you all to visit.
On
tokkotai.jp
please click on the photo of Suzuki san in the top left corner to see the menu and make sure you watch our brand new 48 page manga, too!
Thanks for reading and hope to see you all at Yasukuni Shrine and Yushukan Museum ! JK