ユディちゃんからの最新レポートです。
佐藤錦おいしそうですね
あと山形県は紅花もとても有名みたいです。知らなかったです!
ユディちゃんが日本全国を飛び回ってくれているので、色んなことが分かりますね。
ユディちゃんはさくらんぼをたくさん食べ、紅花踊りを踊り、紅花料理を地元の方々と楽しんで山形を十二分に堪能してきたみたいです。
Check out those delicious cherries that Masanori Ono kun and I picked on his grand parents' farm in Yamagata prefecture! They are the best! Sweet, crunchy and amazing. I just stood under the trees and I ate non-stop for the two days we were filming cherries! Lucky! Although I have lived in Japan for almost 15 years now, I have never bought these delicious Sato Nishiki brand cherries because they are way too expensive. As the Onos told me, most Japanese buy them as summer gifts. Gosh, can't wait till someone wonderful sends me some! ヨロ ピク!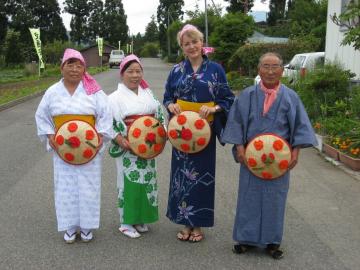 Did you know that Yamagata prefecture is also famous for benibana, or safflowers? Safflower farmers Katsusuke and Michiko Aoki invited their local benibana dance teacher, Ms. Kano to show us the moves. We had too much fun dancing on the street and ended up eating and drinking delicacies made from safflower inside their home till late afternoon.Next I hopped on the Nagai Flower Line train and met supercool train driver Asakura san who saved the little train, the lifeline of the community from bankruptcy. I am writing an article about him in the near future so stay tuned, please.
The article about the Onos is here on the Japan Times website:
http://search.japantimes.co.jp/cgi-bin/fl20080708jk.html
I hope you also watch my report on Yamagata's wonderful people and products on NHK TV's Out& About!
http://www.nhk.or.jp/nhkworld/english/tv/outabout/archives080414.html